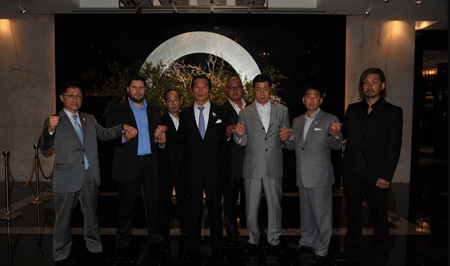 International Ihara Dojo Organization, Mayo 2013 - Tokyo
Tokio, Japon, minute 0: the beginning of INTERNATIONAL IHARA DOJO . ORGANIZATION with the Kaicho Shinichi Ihara approval, the President of New Japan Kickboxing Association , the Branch Chiefs of Ihara Dojo Niigata Mr. Otogawa, Ihara Dojo Inagi Mr. Kurishiba, Mr. Kimura, Mr.Takada, Mr. Miyagi, Mr. Kawakubo and the new Argentinian Branch Chief Mr. Diego La Volpe were meeting in the New Otani Hotel where something triggered the development of the International Ihara Dojo Organization in order to spread around the world the Japanese Kickboxing.
In the picture, from left to righ,t Mr. Otogawa, Mr. La Volpe, Mr. Takada, Kaicho Ihara, Mr. Miyagi, Mr. Kimura, Mr. Kurishiba and Mr. Kawakubo.